How The Towel Belt System was Created
I was picking up towels off the floor 5-10 times a day!! Every time I would walk into the bathroom the towel was on the floor. Yuck! I don't care how many times you clean the bathroom, the floor is still dirty, especially with three boys in the house! After replacing the towel in the bathroom, I come out into the kitchen to find my towel "stolen" by the current toddler in the house! I am sure many of you can relate to what I am talking about! After several years of picking up towels and doing extra laundry, I thought "There has to be a better way. What can I create to fix this never-ending problem?" The thought entered my mind and I bought a sewing machine and learned how to sew, so that I would be able to make The Towel Belt System. After a few prototypes, I came up with what I have to offer you today. The first day we used The Towel Belt System in our house was absolutely amazing! My towels hanging on the towel bar in the bathroom and kitchen didn't come off all day! Yes, they lasted a whole day before I had to put them in the laundry! I designed and created The Towel Belt System to save a few minutes of our day as well as much unneeded laundry.
Meet the Inventor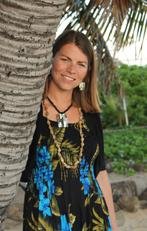 Hello, my name is April Mitchell and I am the owner of 4A's Creations. I am a busy Marine wife, mother of four children, educator, and inventor. All of our children's names begin with the letter A, hence how 4A's Creations got it's name! I would like to share The Towel Belt System with you, having full confidence that you WILL do less laundry and not get frustrated picking up towels anymore!